Friday April 4, 2014
I received this uh-maze-n leather 'tarzan' crop from Friend of Mine last year (but in the dead of winter) so it got no wear until just a few days ago. The fit is perfect and the back–best part in my opinion. It's a single piece that looks like a bib when laid flat, but on! So good. Make sure to check out the rest of this Aussie brand, one of my all-time faves for easy, modern pieces. Skip through to find out where the shorts + shoes are from.
Thursday April 3, 2014
Never been a fan of geometry but loving anything geometric right now. I really love the mix of colors on this knit–totally screams summer to me. Can't wait to pair it with my favorite cut offs and a pair of pearly white slip-ons (hello summer uniform). And this bag–so CRAY! I call it my mattress purse because of the tucking and general resemblance. This purse is also an attempt to curb my enthusiasm/tendency for all-black accessories…let's see how long it'll last, but I say valiant first stab!
Monday March 31, 2014
A quick post wearing one of my favorite colors of the season–orange! Expect to see a whole lot more of color on THP. Hope everyone had a good weekend–I'm pumped for this week!
xx V
Topshop Sweater, Zara Leather Pants, Topshop espadrilles Flats, The Mode Collective 'Lunchy' Bag, Seneca Eyewear
Friday March 28, 2014
I'm a mesh-a holic. I don't know why, but I l-o-v-e it. This Rebecca Taylor knit is a great take on a THP staple, as evidenced here and here. I decided to style mine with a black bra because I love contrast and something a little unexpected. If it wasn't black maybe a transparent nude. And nothing says spring more than an entirely white look. I love white. I noticed very early on that wearing solid white outfits worked well with my skin tone–something I've continued to do every season (rain or shine).
Wednesday March 26, 2014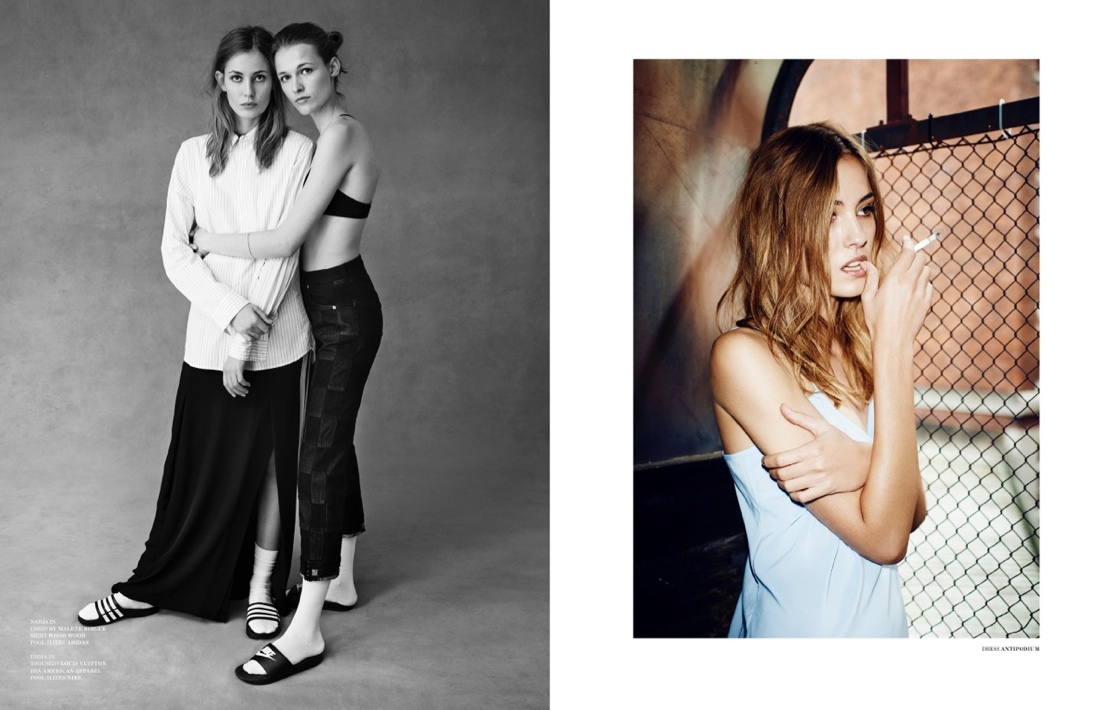 Can I just say that I'm sorta relieved that all of these recent 'trending' shoes have been sneakers/slides/birks instead of the usual heel? Enter the new anti-fashion, fashion shoe. Last year the Birkenstock, today the pool slide. I swear I have seen this type of editorial e-v-e-r-y-w-h-e-r-e; different model, similar scenerio. I just chose this one because I have a very soft spot for Nadja. Even though I have a pair of Adidas Superstars, I'm a true Nike girl, so check these out, for GASP only $19.99! I'll be taking one in each colorway, THANK YOU.
Shop them now here